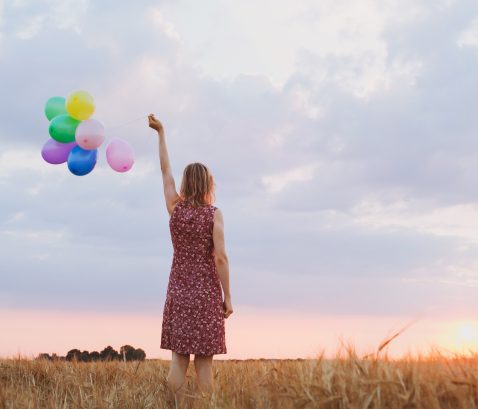 I was looking through my journal from a few years ago, and I wanted to share this with you. I wrote this entry one particular summer that Jesus was deeply healing my heart. I had been dealing with a lot of shame and self-condemnation regarding the same-sex attractions I had been having for so many years. I also still carried a lot of regret from the (sexual) relationship I had been involved in with my friend years earlier.
My identity was wrapped up in so much regret, pain, and fear.
I went over to my mentor's house the day I wrote this. She had given me a balloon and suggested I write all of the feelings on it that I couldn't seem to let go of, so I could release it all to God. It really sounded too simple to make any kind of profound impact; but as I look back, God ended up using that day to begin releasing me from so much of the pain, self-hatred, and regret I was hanging onto all of those years. This is what I wrote in my journal that day:
I wrote out everything on a balloon that I made the decision to release to God today. I wrote things like:

Being with another woman
Resentment
Bitterness
Anger
Embarrassment
Feeling like something is wrong with me
Shame
Regret
Pain
Jealousy
Unforgiveness of myself
Self-hatred

I wrote all of those things on a balloon, and we went out into her yard. I read each one out loud to God and told Him I was releasing all of these things to Him.

As I let go of the balloon, I was releasing my heart's desire to be with a woman. I was choosing to release that whole life and everything that goes with it. The sun came out and was beaming on me as I was saying all of this to God. I then let go and watched the balloon go up into the sky and fly out of sight. I was so afraid it would get stuck in a tree, (wouldn't that figure) but that didn't happen! I released it all to Jesus and asked Him to fill me up with what HE HAS FOR ME INSTEAD. She then prayed for me, anointed me with oil and told me to rest! I'm exhausted, but it's a good kind of exhausted. I am so glad I don't have anything I need to do tonight.

8:15pm (later that night)

Wow… I just sat down to listen to some worship music, and I started to cry. I mean REALLY cry. I feel so incredibly grieved. I have spent literally HALF of my life wanting something that God never intended me to have. Who is the real Amy? I have no idea, but I know that God will help me one step at a time to continue my journey. He WILL restore me to who He created me to be. Thank you, Father God.
As I look back to that summer, that is when I really started learning and embracing who God created me to be. That was when I started learning how to let go of all of the lies that weighed so heavy on me. This certainly did not happen overnight, but it was the beginning of a long process that God used to heal me. It was an uncertain and sometimes scary time; but as I kept looking to Jesus, He continued to direct my steps and heal my heart. He never let me go!