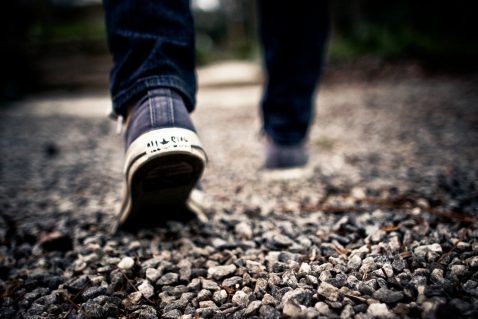 When we are trying to conquer sin or a particular stronghold in our lives, the bible shows us to be guided by the Holy Spirit (first) so we can (then) not fall into sin.
But I say, walk and live [habitually] in the [Holy] Spirit [responsive to and controlled and guided by the Spirit]; then you will certainly not gratify the cravings and desires of the flesh (of human nature without God) (Galatians 5:16 AMP).
Follow the Holy Spirit so you do not gratify the sinful desires of your flesh.
I had this backwards for a very long time, and I still have to remind myself of this. As someone who (easily) tries to fix myself, try harder, etc. I had always tried to give the situation everything I had in order to walk closer with God.
Yes, we need to give God our best, but when we depend on our own efforts to overcome sin, it doesn't work for very long.
"Don't live under the control of your sinful nature. If you do, you will think about what your sinful nature wants. Live under the control of the Holy Spirit. If you do, you will think about what the Spirit wants" (Romans 8:5).
We are to be led by the Holy Spirit.
This is similar to Matthew 6:33 " But seek first the kingdom of God and his righteousness, and all these things will be added to you" in showing the vital importance of putting our focus on God first. Galatians 5:16 shows us we need to habitually walk with, live with and yield to the Holy Spirit to not gratify the cravings of our flesh.
If we are trying to overcome any craving or desire of the flesh we need to practice daily following and focusing our attention on the Holy Spirit; otherwise, we will be trying to abstain from these cravings and desires in our own efforts. Our flesh (and the devil) will eventually rise up again in this area, and we need to be prepared to fight off the temptation and listen to the Holy Spirit as our guide.
God wants you to follow after Him with your entire being. Continue pursuing Him. Lean on Him. Don't let shame and fear of failure lie to you and get in between the relationship He wants to have with you. Seek the guidance of the Holy Spirit, and you will be able to conquer any stronghold with the grace He gives you.
We cannot help but be transformed when we spend time in His presence. Know who you are in Christ, and declare these things out loud to fight off the enemy and even your own flesh. Trust that when you spend time with Him and yield to the Holy Spirit, you are being transformed, even when you don't see it yet.
Keep persevering! There is incredible light, freedom and hope at the end of the tunnel.