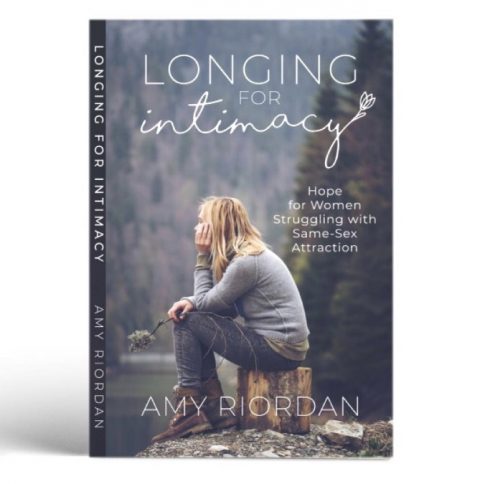 Longing for Intimacy – Released in March 2018 and is now available on Amazon  and Barnes & Noble online.
Book Description
Longing for Intimacy is an open and honest account of the journey of a woman walking through same-sex attraction. While surrendering her sexuality to Jesus, Amy Riordan openly shares many of the challenges and heartaches she has experienced, along with the freedom, healing, and intimacy with Jesus she has gained along the way. 
Breaking free from a hidden pornography addiction, lust, and many layers of shame, Amy also learned how to gradually build deep, healthy friendships with other women.
Incorporating excerpts from her journal and reflection questions for the reader, this book serves as a practical tool to encourage, challenge, and give hope to women who are wrestling with same-sex attraction and the challenges that can often accompany this struggle. Amy's candid writing is also a helpful resource for parents, mentors, loved ones, and churches seeking to walk alongside women struggling in this way.
Reviews
"I finished reading Amy's book and it was so good, I think I highlighted half of it because it resonated with me so much. At some points I felt like she had been in my head and written down my thoughts and feelings! I'm bummed that I'm done reading it I didn't want it to end! (And for me to keep wanting to read is saying something cuz I'm not a big reader!)
I loved the book so much and Amy I appreciate you so much for writing it for women like me who need to know that I'm not alone and that there is light at the end of the tunnel".
---
"Amy's story is easy to read, yet deeply rich with nuggets of hope, wisdom, and truth! What a beautiful encouragement this is to not only those walking through same-sex attraction, but ALL of us! Our desire for intimacy can only be met through the One who made us and loves us.
This book beautifully offers a story that opens a safe-space for honesty…about ALL struggles. It's like being able to share your heart with a dear friend who can relate and offer compassion. I was so touched to see the way the Lord spoke through Amy's vulnerability and humility….I trust you will be greatly blessed too.
I highly recommend this book for anyone who finds themselves secretly struggling with areas they can't seem to stop, desires that overtake them and hurts that seem to haunt. The answer is the same".