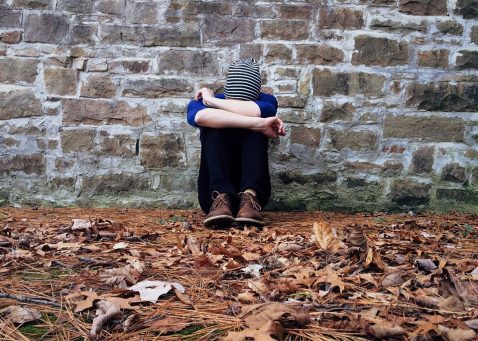 This is my last post of the series I started a few weeks ago. All of these points have been significant in finding healing and freedom from strongholds in my life, but I would have to say this one in particular has been one of the most important pieces for me.
Condemnation is a subject I have repeatedly had to deal with over the last several years. While preparing to write this post, I started looking through many of my previous posts. I saw the words "condemnation" and "self-condemnation" written time and time again.  One of the major components in me finding freedom and healing (emotional and spiritual) was learning how to not condemn myself.
Many of us have heard or read the following scripture:
"Therefore, there is now no condemnation for those who are in Christ Jesus" (Romans 8:1)

Many of us have heard this before, but how many still condemn ourselves when we don't meet our own standards or the standards of those around us? This has been a huge one for me, because I unfortunately did a very good job condemning myself over the years. Satan didn't even need to help. I did a good enough job of it on my own. This is not only harmful and unfruitful, but it will keep you trapped even longer.
Please do not condemn yourself when you fall or don't do everything perfectly.
Let's look at a few scriptures that come just before the one I mentioned above:
"So I find this law at work: Although I want to do good, evil is right there with me. For in my inner being I delight in God's law; but I see another law at work in me, waging war against the law of my mind and making me a prisoner of the law of sin at work within me. What a wretched man I am! Who will rescue me from this body that is subject to death? Thanks be to God, who delivers me through Jesus Christ our Lord! So then, I myself in my mind am a slave to God's law, but in my sinful nature a slave to the law of sin" (Romans 7:21-25).
"Therefore, there is now no condemnation for those who are in Christ Jesus" (Romans 8:1)

This is a perfect example of the war that can rage inside of each one of us. We often want to do one thing but end up doing another, but "thanks be to God, who delivers (us) through Jesus Christ our Lord!"
In all of the self-condemning I have done, guess what never happened as a result? It never set me free. Condemning myself never made me "get it" enough to not fall or do everything perfectly. Actually, the opposite happened. After a long time, I started to notice this self-condemnation backfiring on me. It was causing me to feel helpless, hopeless and like a failure.
Condemnation will never set you free.
Jesus knows condemnation will not set us free. If He is not condemning us, then why is it ok to do this to ourselves? Condemnation is a tactic of the enemy, so it can never set us free. When I started making a very conscious effort to stop condemning myself, I became acutely aware of just how often I was doing it. I also felt guilty for awhile, feeling like I was trying to get away with something if I didn't beat myself up over my sin/failure/mistakes.
As I gradually started walking in the grace available for me, I began to see life emerging where I once only saw condemnation.
When we give our lives to Christ, He never expects us to do everything perfectly. He knows we have flaws, and He fully knows our weaknesses. As you yield your life to Him over and over again, and as you put your focus on Him, you slowly become more like Him. This is a lifelong process. He has given us His grace to overcome. This does not mean we will never sin again, but that we have been given power (through Him) to overcome any stronghold we are dealing with. This same grace is available for us when we sin, giving us the power to get back up and put our focus on Christ again.
The Holy Spirit will certainly convict us when we need to change something, but that is far different than condemnation.
The next time you find yourself listening to the condemning voice in your head, pray that God would show you His perspective on the situation. If there is something you need to do/stop doing He will show you and give you the grace to change.
It is

not

a sin to be tempted. Jesus was tempted, so we know it is not a sin. What we do with that temptation is what matters. Keep this in mind, because feeling guilty for being tempted will just provoke you to fall even quicker.
If what you are hearing is purely condemnation from the enemy, I pray that you recognize it for what it is and replace those lies with God's truth of who you are in Him.