Welcome to Longing for Intimacy. My name is Amy Riordan. In 2010, God was doing an amazing work in my life, and He put it on my heart to start sharing my story on my blog (formerly known as Walking in Freedom). 
Up until that point, I thought I was the only Christian woman who struggled with same-sex attraction and pornography, and I felt such shame and isolation. Since then, women from all over the world have reached out to say they have also wrestled with pornography and their sexuality in similar ways.
Jesus has continued to do an amazing work in my life, and I love seeing Him do the same in others' hearts as well.
(Never miss a blog post! Click here to receive them in your inbox.)
Many of us have a deep longing for intimacy. We can try to fill this deep longing in many ways. Despite what our hearts tell us, this deep longing for intimacy and fulfillment is not something that can be filled by sex or through a deep emotional connection with another man or woman.
Certainly, we are created to experience connection and emotional intimacy with others, but our ultimate fulfillment is found in an intimate relationship with Jesus. 
Longing for Intimacy is a ministry for women wrestling with pornography, same-sex attraction, and anyone looking to build deeper intimacy with Jesus.
I have been ministering to women in the areas of identity, shame, lust, trauma, same-sex attraction, and pornography addiction since 2010.
My book, "Longing for Intimacy: Hope for Women Struggling with Same-Sex Attraction" was released in March 2018. This book includes my own journey regarding a struggle with same-sex attraction and how I found freedom, healing for my heart, and intimacy with Jesus to fulfill the deepest desires of my heart. It is now available on Amazon and other online book retailers.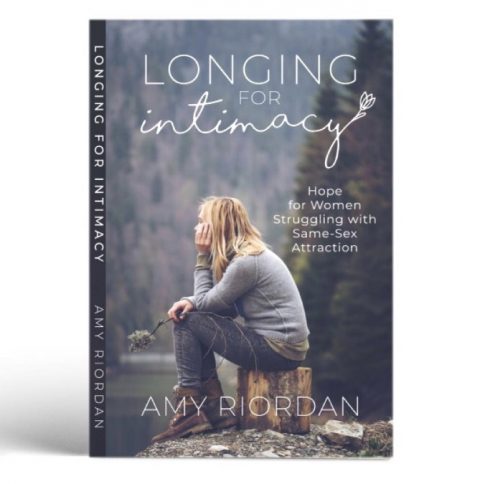 Some of My Interviews/Articles/Presentations:
Guest Podcasts:
You can also find me on any of these sites:
I pray that this blog encourages you, challenges you, and gives you hope. Most importantly, I pray that you are inspired and equipped to develop an intimate relationship with Jesus. There is nothing better.
Amy Riordan